Well, yesterday was the longest day ever. And I still haven't heard from my friend. I don't have any friends who have ever gone to war and I don't know anyone personally who died or was missing in 9/11, so I guess now I know what this feels like, at least in a way. Obviously the chances are really slim that anything happened to him, but the waiting is just... ugh.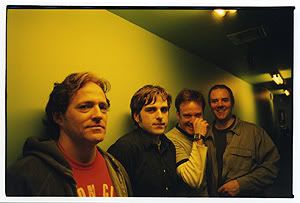 At least the end of the day provided some sort of distraction when I stuffed my face with the best corn on the cob ever @ Cafe Habana while gawking between bites at Mike Myers and then booked it back to Williamsburg to see Charles Bissell (lead singer of
the Wrens
) play a solo show at Petes Candy Store that was nothing short of amazing. He seemed so unsure of himself, but managed to pull out these amazing songs and intricate guitar playing that blew me away (even in the teeny tiny sweatbox that is Pete's live room...).
He played this Wrens song, which is one of my favorites and really personal in terms of the backstory of his band.
The Wrens -
Everyone Chooses Sides
and I'm throwing this one in too just because I love it and I've been djing it a lot lately.
The Wrens -
Shot Rock Splitter To God
Also making me happy this morning is
White Light Motorcade
's new MySpace profile where you can listen to some tracks from their new album,
Take Me To Your Party
.
Check those out here
. My favorite track so far is "Let's Get Together", which is really so straightforward but catchy as all hell. Just try to get it out of your head.
They are playing Don Hills on the 13th and Sin-e on July 28th.
Last Sunday I went over to Bar 13 to check out Surefire for the billionth time, and pretty much decided that I would be hard pressed to ever be disappionted in any of their shows. So instead of listening to my praises,
go to their website
where they have a new song posted that you can stream, as well as a VIDEO for my favorite, "The Man Beside Her."
They are playing at at Rothko for the
Vicious Anniversary
show (which, unless you live in a cave, you already know about because it's going to be amazing), with my favorite favorites,
PS
.
Tonight, head on over to Pianos and check out
Dutch Kills
, performing at 10pm. You won't be disappointed.
Have a great weekend!