i guess i need to update my blog, because apparently now there is "old blogger" and "new blogger" and i didn't even know. there is also a
new blog show up today
, which you should go listen to, because we play depressing christmas songs and some other really good music. next week we talk smack about Sufjan (oh SNAP, as Rachael would say). but you will just have to wait for that one...
anyways, this week I went to the Spin "year in music" party, which was kicked off by a performance by
Girl Talk
(aka a lot of white kids getting down and getting funk-ay on the dance floor). there was also free beer and more bloggers than you can shake a stick at, so you know how those things go.
I just have to say that Girl Talk's Gregg Gillis might be a legitimately insane person. But insane in the membrane in a really good way. Though no one should own that many pairs of plastic 80s fluorescent sunglasses... and he spit a lot of paper/confetti out of his mouth. But besides that, Gillis brought the party (complete with a few holiday-themed jams mixed in) and was ALMOST as entertaining to watch fling himself around as it was to see Bronques on stage singing along (sort of) and photographing the whole thing. Oy vey.
Girl Talk -
Hold Up
Buy the
Night Ripper
album
here
-- certainly one of the best of the year.
Next up were
Cold War Kids
, a band I have seen before several times and always enjoyed. They aren't my favorite thing but they always rock out, and honestly I have always been more of the impression that they have a few really great songs and some that really don't do anything for me at all. Unfortunately, for whatever reason, it seemed like their set really killed the vibe of the party Monday night. I don't know if it maybe seemed like the band was going through the motions of the same set that most of us had heard them play several times or that they just didn't fit in with the other acts that were booked.
Whatever it was, hopefully it was just a fluke. Here's a song that I love, mostly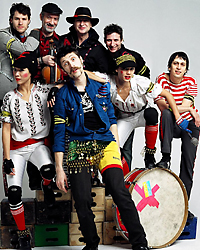 just for the title. I like to say it in the Borat voice.
Cold War Kids -
Red Wine, Success!
The last act of the evening was
Gogol Bordello
, who I had never seen before but heard great things about. And seriously, if Girl Talk "brought" the party, Gogol Bordello BROUGHT it and then brought it TEN MORE TIMES. If I had a bar mitzvah (bat mitzvah.. i don't remember which), this is the band I would want to book. They are like crazy gypsies, and just... yeah. Crazy time. I think Piper and I were square dancing at one point, that's how ridiculous it was.
Gogol Bordello -
Start Wearing Purple